Unless you can get people to click your "Like" button, your Facebook strategy will be as limp and lifeless as Matt LeBlanc's post-Friends career.
That's because the vast majority of consumer Facebook interactions don't occur on your fan page, but rather in the newsfeeds of your fans. In fact, research from Jeff Widman of Facebook fan page consultancy BrandGlue (and a presenter at Facebook Success Summit) estimates that 199 out of every 200 interactions (99.5%) come from the user's wall (or newsfeeds). This means that almost nobody is coming back to your fan page after they visit it the first time.
Think about your own behavior on Facebook. How many brands have you "Liked" and then never returned to? For me, it's 137 total pages – a mixture of companies, organizations, other social media consultants, etc. How many of those pages have I visited after "Liking" them initially? Essentially zero, other than grabbing screenshots for presentations.
I Like "Like"
The implications for this are enormous. It somewhat invalidates the whole concept of turning your Facebook page into a mini-version of your website.
And it makes getting visitors to click "Like" the single most important component of your approach on Facebook, because if they don't click "Like," they may never get information from you. In fact, the conversion ratio of page visitors to new fans is a key performance indicator for Facebook success. (If 100 people come to your Facebook page and you get 20 new fans, your conversion rate is 20%.)
Sell the "Like"
With the exception of baking the "Like" button into your website, the best way to generate new fans on Facebook is to create a custom landing tab. This means when visitors come to your Facebook page for the first time, they see a customized tabbed page, not your wall.
For BrandGlue clients, using a custom landing tab increases their conversion rates by 100% or more in almost every case.
The best news about custom landing tabs is that they're easy and inexpensive to create. Here are three options for creating a custom landing tab for your Facebook page.
#1: TabSite
TabSite is a Facebook application developer that specializes in giving businesses easily customizable tab pages. TabSite allows you to create and manage the content on your custom tab as if it was a web page or blog post, including adding multimedia. Instead of having a basic custom tab with one image, you can have multiple images, videos, text, etc.
In fact, TabSite allows you to have up to five "sub-pages" that operate underneath your custom tab.
You can create coupons, supporting information, etc., as you can see in this example TabSite from Digital Hill Multimedia.
TabSite costs $5/month for business pages. It's free for personal Facebook pages. TabSite is not difficult to install, but isn't entirely obvious either. It's best for experienced users. Also, there is no free trial at this time, and the "preview" feature is a bit cumbersome, so you may need to tweak your design and layout a few times.
#2: North Social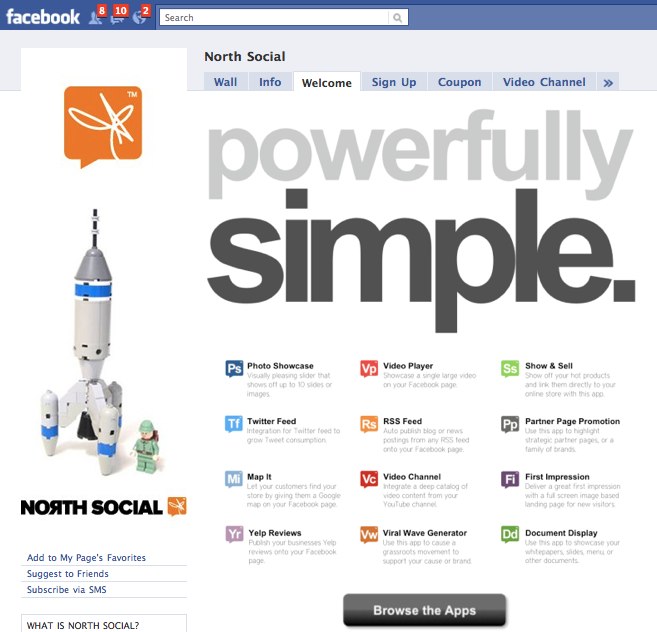 North Social is a Facebook page application developer that maintains a large (15+) and growing stable of widgets to add horsepower to your Facebook presence. In addition to photo galleries, video applications, discussion boards and other options, North Social has a custom tab creator called First Impression.
North Social's setup and configuration process is outstanding, and customization of their apps happens exclusively within Facebook, making it faster and more intuitive.
The one challenge with North Social is that if you're only looking for a custom tab solution, it's overkill. North Social packages their apps together for one monthly fee ($19 for the basic package). So you get access to 15+ customizable apps for one price, but if you care primarily about just one app, it's like swatting flies with a baseball bat.
Also, your First Impression tab can only contain images and text, not multimedia (like with TabSite).
#3: Pagelever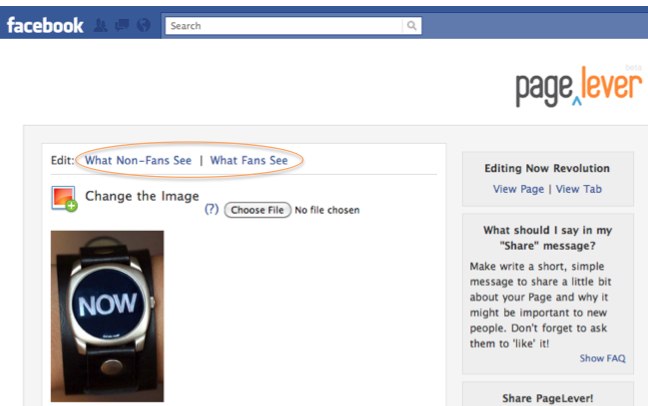 This is perhaps the easiest of all custom landing tab creation options. Pagelever allows you to upload a single image and create a welcome tab in about two minutes.
For basic functionality, Pagelever is entirely free.
The advanced version ($20 per year) includes the ability to add fans-only content so your custom tab has different messages for non-fans and fans. When a visitor clicks "Like," the content automatically changes (without reloading the page), and you can instantly thank brand-new fans and invite them to download a coupon, invite their friends, etc.
Pagelever includes a 7-day free trial for the advanced version and you can pay via PayPal.
Other Options for Custom Tabs:
In addition to the three options reviewed above, other Facebook application companies like Involver, Buddy Media and Vitrue have custom tab components. These firms primarily offer all-in-one Facebook fan page management suites that are impressive, but typically aimed at mid- to large-sized companies.
If you're DIY-inclined and technically proficient, you could also create your own Facebook app to display a custom tab (among other things). Using the Facebook Canvas app system, you could put this together in a day or so if you understand Facebook's API calls and so forth. This is not for the novice. I had my pal Chuck Reynolds examine this alternative because it's over my head.
Summary and Tips:
For very simple, straightforward custom landing tabs, I'd probably opt for Pagelever in most cases. Free is an attractive price-point, and even at $20/year for the fan-reveal feature, it's the least expensive option.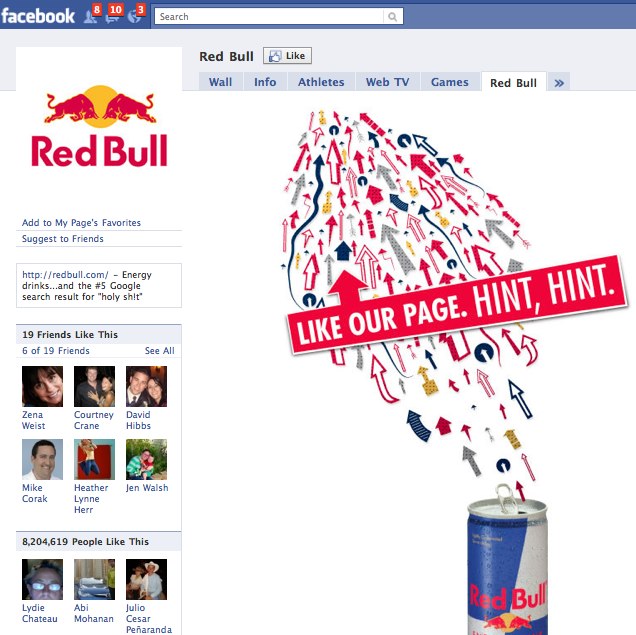 However, if you want your custom tab to have more content than just a graphic that says "Click the Like button," such as this Red Bull page, then TabSite is a good bet.
If a landing tab is just part of your Facebook customization plan, then North Social might be the best option, as their array of useful applications is impressive and inexpensive.
This blog post was first published on October 19th, 2010, at Social Media Examiner. The author, Jay Baer, deserves all credit for this post and has an incredible website with more social media tips. Because this post had so many great tools and explanations, I did not feel a simple retweet would do justice, but wanted to share the content with my readers. I personally use North Social and have very much enjoyed my experience with them thus far, but I may try out some of the other sites Jay recommends.
Do you use any of these sites already? What has your experience been like?
---
Social Media
No To The Quo